!ESSAYS - curator introduction>
CURATOR'S ESSAY

Caribbean Artists in Britain, 1966-1996



Mora J. Beauchamp-Byrd
In England, more than thirty years of arts exhibitions and activities focusing on British artists of color have laid the groundwork for Transforming the Crown. The Other Story: Afro-Asian Artists in Post-War Britain, a pioneering exhibition organized by artist, writer and publisher Rasheed Araeen, opened in 1989 at The Hayward Gallery.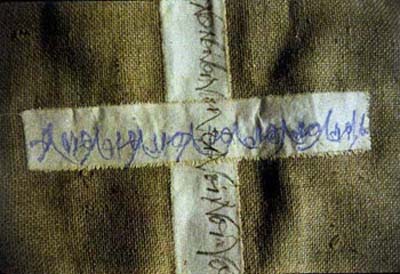 Enter Gallery 1
Exhibited nationwide from 1989 through 1990, the show was Britain's first major exploration of the work of British artists of color. This was one of many shows organized by artists themselves, who recognized the necessity of creating their own outlets for the public presentation of their work.

Artistic movements in Britain have also helped spark interest in the work of Britain's artists of color. One particularly significant development was the Caribbean Artists Movement, a literary and visual arts movement begun in 1966 by the writers Ed (later Kamau) Brathwaite, John LaRose and Andrew Salkey.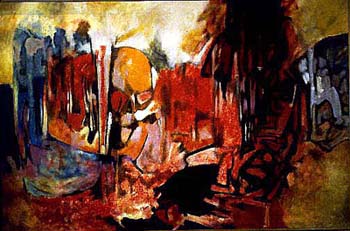 AUBREY WILLIAMS

Later initiatives included the Black women's arts movement begun in the 1980s by Lubaina Himid, who organized groundbreaking exhibitions such as 5 Black Women at the Africa Centre, Black Woman Time Now at the Battersea Arts Centre and the seminal exhibition The Thin Black Line at the Institute of Contemporary Art (ICA). Through her curatorial efforts and the establishment of a gallery called The Elbow Room, Himid brought attention to emerging and now well-known artists such as Sutapa Biswas, Sonia Boyce, Ingrid Pollard and Veronica Ryan. Eddie Chambers organized more than thirty exhibitions featuring the work of artists of color in the 1980s and 1990s and established the African and Asian Visual Artists Archive, now part of the University of East London. Sunil Gupta's stimulating curatorial projects included Fabled Territories, which featured work by photographers of South Asian origin living in Britain, and Disrupted Borders, which challenged political, racial and sexual categories that continue to define and promulgate dichotomies of centrality and marginality.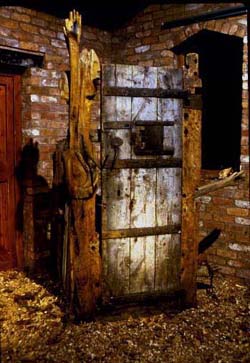 Juginder Lamba

Juginder Lamba initiated and organized the South Asian Visual Arts Festival, in which over sixty contemporary artists having origins in Bangladesh, India, Pakistan and Sri Lanka exhibited their work in twenty major venues throughout the West Midland region in 1993. Other artists banded together to create organizations such as Panchayat Arts Education Resource Unit, founded in 1988 by Bhajan Hunjan, Shaheen Merali, Symrath Patti, Allan de Souza and Shanti Thomas to promote the work of predominantly South Asian artists. These are just a few of the zealous efforts organized by artists during the past thirty years which assured that the work of artists of color were placed in Britain's cultural realm.

Despite these initiatives, there remains, here in North America, a tremendous lack of knowledge about the history of people of color living in Britain, and hence a particular unfamiliarity with visual artists living and working in England. When I first began this project, I went to England with the idea of presenting the work of ten to twelve artists whom I had admired for several years: Ronald Moody, Aubrey Williams, Rotimi Fani-Kayode, Lubaina Himid, Keith Piper, Ingrid Pollard, Sonia Boyce and others. After a number of month-long visits, meeting with artists, scholars and arts administrators throughout the country, I discovered a wealth of artists creating thoughtful, inquisitive and visually stimulating work, employing a wide variety of media and exploring numerous stylistic modes. My subsequent discussions with other Americans about my ideas for this project were often met with the following recurrent and resounding question: "Are there many black people in England?"

Rotimi Fasni-Kayode




Artists whose origins rest outside Europe, unlike those of solely European descent, are often faced with questioning and a barrage of assumptions regarding their presumed non-Western influences. Related to all of these issues and central to many of the artists' work is the question "Where is home?" These ruminations on homelands, far from alluding to confusion on the part of the artists themselves, reflect the artists' responses to anti-immigrant sentiment and behavior in Britain. Evident in much of the work is a distinct identification and familiarity, at varying levels, with several geographical areas. The convictions of many new and not-so-new arrivals in Britain might be succinctly expressed by a few lines from Omeros, an epic poem by the St. Lucian-born poet Derek Walcott:



"I do not live in you, I bear
my house inside me, everywhere."



How have artists in Britain responded to ideas of home, nationhood, and how does it relate to us here in North America, at a time of increased xenophobia and historical amnesia? This exhibition was developed with the central aim of discussing these questions with an American audience largely unfamiliar with the diversity of Britain's populations. My essay for this exhibition briefly outlines the almost 500-year-long African and Asian presence in England. Most people believe that these populations arrived in Britain solely after World War II, when England was rebuilding itself. Indeed, during the late 1940s and early 1950s, Britain's economy depended upon the strenuous efforts of workers from outside the country, much as it did during its era of colonization and empire building. London Transport recruited populations from Britain's former colonies to work on City buses and train systems. Immigrants from India, Pakistan, the Caribbean, Ireland, Poland and other areas arrived in England to work in factories, build motorways and cars, staff hospitals, and work within the food and beverage industry. However, it is important to note that people of color have lived in England since ancient times, when North Africans were part of the Roman armies that occupied England.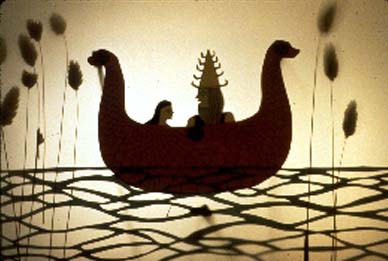 Mumtaz Karimjee


Transforming the Crown should be viewed as a North American effort to foster further exploration of some of the most compelling work being produced in England in our time. During the past ten to fifteen years, the dialogue between British and American culture has been exemplified by the positive critical reception, in the United States, of films such as Isaac Julien's Looking for Langston and Hanif Kureishi's My Beautiful Laundrette; by the American success of musical groups Soul II Soul, Steel Pulse and Loose Ends; vocalists Sade, Seal, Des'Ree and Apache Indian, as well as the writings of British-based theorists Paul Gilroy, Stuart Hall and Kobena Mercer. In Britain, African American music, whether blues, jazz, funk, hip hop and other idioms, has long been popular. American civil rights movements have profoundly influenced Britain's writers and the leaders of Black, women's and lesbian and gay movements; it also has played a key role in developing Britain's visual arts movements.

The temporal span of the exhibition begins with the 1966 advent of the Caribbean Artists Movement (CAM) as a means of calling attention to this movement, little-documented save for the strenuous efforts and tremendous work of writer Anne Walmsley. I felt it important to present CAM members' works alongside those of a younger generation of artists, many of whom finished their art degrees in the 1980s and early 1990s.

The exhibition has been divided into thematic sections, although many of these complex, multifaceted works reference a number of thematic interpretations. The exhibition's themes include representations of the body, often articulated through the genres of portraiture and self-portraiture. Other thematic sections involve homelands or nationhood; the challenging of socially-dominant ideas defining masculinity and femininity; the implications of skin color and ethnicity; familial and other interpersonal relationships and their attendant states of intimacy, sensuality, memory and loss; the manifestations of myth, ritual and systems of belief; and social protest and documentation-the ways in which artists have documented contemporary England as well as the larger world. One overarching practice in nearly every thematic area is the disruption of assumptions involving nationalism, race, gender and other concerns.

The exhibition title, Transforming the Crown, was never meant to imply that the artists had specifically sought to alter the British monarchy. The "Crown" is chiefly used as an emblem, a symbol inextricably linked with the imagery of England. The "transformation" refers to the literal, quite profound ways in which England has been affected by the arrival of people migrating from Trinidad, Bangladesh, Kenya, Nigeria and countless other countries. These transformations are reflected in Britain's culinary offerings, in the melding of new musical forms out of a wealth of cultural sources, the emergence of new Carnival and other festival traditions, and, of course, the visual arts. As evidenced by the work on view here, contemporary British art is marked by intellectual stamina and great diversity, largely due to the endeavors of the artists included here as well as Anish Kapoor, Mona Hatoum and others. Producing some of the most visually and intellectually stimulating work to have emerged in twentieth-century England, these artists have forever altered the cultural landscape of British history.

The works on view here reflect contemporary Britain's cultural vibrancy as well the turbulence which arises as a nation struggles to define itself and its inhabitants. It is clear that there are many definitions of what it means to be British, to be a citizen of a nation, at this crucial juncture in world history. Like America, England is a society in transformation, made vibrant by the movement of peoples and by incessantly shifting notions of "national tradition." This exhibition, a thirty-year visual documentation of late twentieth-century Britain, is a particularly fitting project for the Caribbean Cultural Center as we continue to examine the global ways in which diasporic culture continues to rejuvenate our world. It represents an ideal opportunity for dialogue and heightened communication across the Atlantic as we enter the twenty-first century.