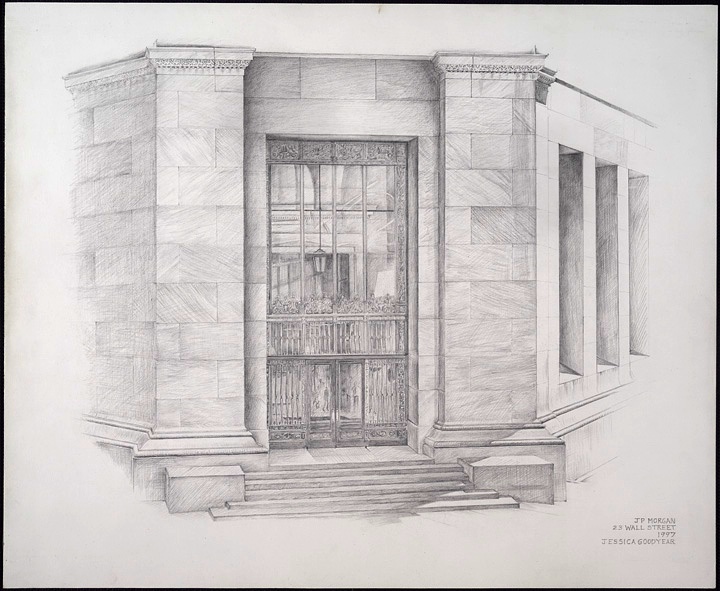 "Federal Reserve Bank of New York", Graphite on paper, 1999, 14 x 17", $2,000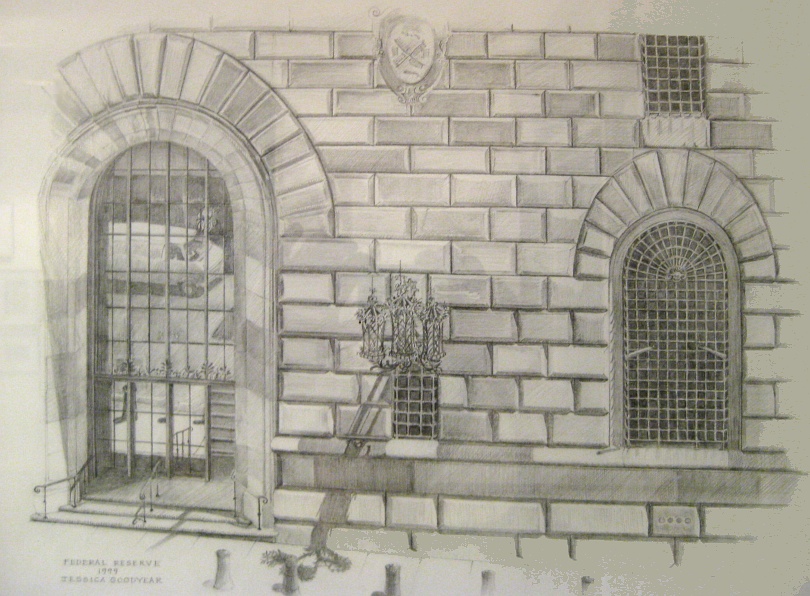 Bio:
By nature I am an artist, by training an architect, by experience a filmmaker. The drawing series "Lower Manhattan Landmarks" began after I saw the destruction of a building on Whitehall Street that once housed the Armed Forces Induction Center, famous for the draft card burning protests in 1965. A classic early American brick building, it was replaced by an ugly glass box. I resolved then to document the important Lower Manhattan landmarks before they were modified or torn down. There are ten drawings in the series. Most of the buildings have been modified. Schermerhorn Row was completely stripped of 100 years of accretions to the façade that gave it a funky character that buildings get when they are old. The Federal Reserve Bank of New York, included in this exhibition, was cleaned of its wonderful checkerboard patina of soot. St. Paul's chapel was nearly destroyed on September 11, 2001.

I am currently engaged in writing a book about cultural geology, a science I have developed over the last thirty years. It explores how ancient people used their architecture and myths to help them cope with tectonic upheaval, such as earthquakes and volcanic eruptions. In tandem with the writing, I created a complementary series of drawings of World Archaeological Sites, using the same style and technique as the Lower Manhattan drawings. These buildings are of course hundreds, and sometimes thousands, of years older than those in Manhattan. I love old buildings, the older the better. These drawings are a continuation of an artistic tradition that stretches back to Pompeii and beyond, including such luminaries as Whistler, Delacroix, and Piranesi.