The Melville Press, publisher of the award winning CETUS, The Whale, is pleased to announce the May 1999 publication of

"Prayers Written at Vailima" by Robert Louis Stevenson

This limited edition of 200 is letterpress printed on Hiromi-Sansui rice paper with Thai Mango red endpapers. The typeface is Bembo. Signatures are French folded and bound in a red silk cover, blind stamped with double orchids by Allwyn O'Mara. Dust cover included. Edition signed and numbered.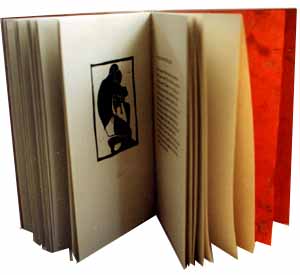 Catherine Kanner has designed the book with a Polynesian feel, and has created 21 original linoleum cut illustrations for the project.

Prayers Written at Vailima - $280.00, includes signed broadside.


---

CETUS, The Whale - $285.00, includes custom slipcase.




Send Orders & Inquiries to:
The Melville Press
Tel. & Fax (310) 454-7675
Email: penandink@earthlink.net
Home website of Melville Press publisher, illustrator and designer: Catherine Kanner http://www.kannerbook.com

Prices do not include shipping.

Cetus - The Whale



Introduction Selected Prayers

Return to Colophon Page