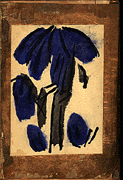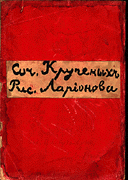 Pomada (Pomade)
(M. Larionov) A. Kruchenykh
Kuzmin and Dolinsky, Moscow, 1913. Edition: 480.
Cover and illustrations by Larionov include neo-primitivist and rayonist works. Text is mimeographed from handwriting by Kruchenykh. This particular copy is one of 25 in which the lithographs were hand-colored by Larionov.

One of the best of the six publications produced by the brief collaboration between Kruchenykh, Larionov, and Goncharova, Pomada is equally significant for its art and text. The publication through which the world was first introduced to zaum - a language " whose words do not have a definite meaning, "Pomada features the poem "dyr bul shchyl," Kruchenykh's own personal favorite, and two other early pieces. Typographical innovations include the constant alternation of letter forms in print and cursive. Graphic features include a red shiny hand-cut cover, onto which the title and cover illustration are attached with glue, and full-page illustrations, which are mounted on gold-leaf paper.
(Howard Schickler)
---
Photos thanks to Howard Schickler Fine Art, where you can find Russian books of this period.
Look at cave paintings, an important influence on this neo-primitivist work
Return to the Futurist page
Look at contemporary artists' typography influenced by the futurists
See how letterforms were used as illustration and pages designed as a totality in an Egyptian papyrus
See an Arabic illuminated manuscript
Look at a Hebrew illuminated manuscript
Look at Fluxus work which was influenced by the Futurist aesthetic
Look at other forms of writer and artist collaborations in the twentieth century