New Book Structures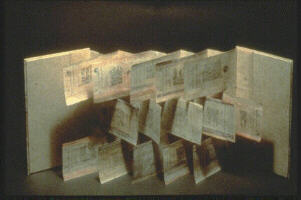 Hedi Kyle
April Diary, 1976
Paper, binder's board, ink, watercolor.
Among the most influential artists in the world of contemporary bookmaking, Hedi Kyle has developed new book structures and forms which have been adopted by publishers and printers of fine art books as well as by individual artists creating unique or multiple bookworks.
---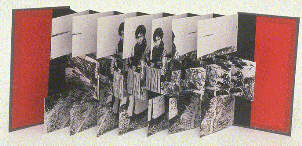 Barbara Bash
Many Voices, 1987
Calligraphy and Xerox on paper.
4 1/2" x 9" closed. Unique artist book.
Many artists and publishers have created new content for structures created or inspired by Hedi Kyle's "April Diary" alternating concertina form. It allows the reader to see many images at once, and is particularly valuable for artists who create books for exhibitions, where the work will be in a vitrine inaccessible to the reader.
---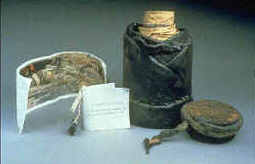 Edna Lazaron
Terrorism, 1985
45.8 cm x 17.8 cm diameter

Two scrolls of collaged mixed media mounted on unbleached muslin in ceramic container with nails and cork top and miniature cap pistol. Edition of 6.

The scroll in a vessel is among the most ancient of book forms. Here a contemporary artist utilizes our association of this form with the Dead Sea Scrolls and other relics of the Holy Land to create another visual association with the book's theme, terrorism.
---
Look at more traditional stuctures with 20th century bindings
Look at a tunnel book
Look at something else
Look at other forms of writer and artist collaborations in the twentieth century